The Somercotes Parish Council Web Site is a guide to local services, events, news and useful contact numbers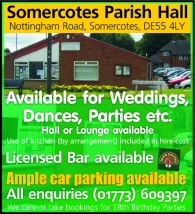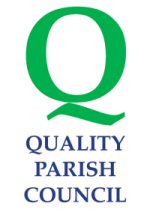 Somercotes Parish Council
has been awarded
Quality Parish Council status
Somercotes - Did You Know?
Derbyshire Ancestral Research Group
by Margaret Brooksbank on Saturday 28 January 2012

---
The earliest mention of SUMCOT occurred in 1225.
In 1549 the Crown sold "a message in SOMERCOTES in the tenure of THOMAS BLAND to THOMAS BABINGTON" Lord of the Manor.
In 1801 the Parish Workhouse was built on Sleetmoor Lane and closed in 1840. It was converted into the Laburnam Inn and demolished in 1964.
In 1847 JOHN COUPLAND of Lincolnshire bought land on Birchwood Lane and opened mines.
Around 1870 THOMAS COUPLAND, his son, bought land at Upper Somercotes and erected houses in COUPLAND PLACE for his workers.
In the 1881 census there were 79 houses in COUPLAND PLACE and 51 housed people from outside the Parish.
In 1893 the Trustees of the MOREWOOD CHARITY sold the "DRUNKEN CLOSES" to Alfreton Urban District Council who laid out LEABROOKS CEMETERY.
The first person to be buried there was JAMES KNOWLES of July 12 1895 aged 55 years
In 1904 there were 7 Farmers, 8 Butchers, 4 Fried Fish dealers, 1 Pawnbroker and 1 Vocalist among the people living in Somercotes.
In 1910 MR LLOYD GEORGE came to Somercotes. A huge tent was erected up in the Market Place for the 5000 expected, but only when a Showman who rented the area had moved all his machinery.
MRS W MEADOWS lost her mother, two sisters, a brother-in-law and two nieces in the LUSITANIA DISASTER of 1915.
In 1917 the PREMIER ELECTRIC THEATRE had five different acts every day plus Topical War news. Tuesday mornings at 10.30 were Men's special matinees.
It was reported in 1918 that "Pupils from the Girls school have collected 9777 eggs over the last 3 years for the wounded soldiers".
In 1969 the bypass on Nix's Hill was opened by Mr Brown MP. The cavalcade was led by Chitty Chitty Bang Bang.
The "Department of the Environment building or suchlike of Historical Interest" – the only thing that qualified for the above was the Mile Post on Somercotes Hill! Date uncertain.
Anyone wishing to contact Margaret regarding DARG can do so on 01773 604916