The Somercotes Parish Council Web Site is a guide to local services, events, news and useful contact numbers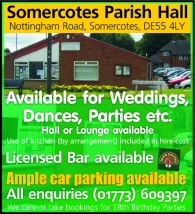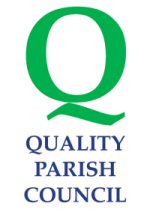 Somercotes Parish Council
has been awarded
Quality Parish Council status
Ancestral Research Group - Crime & Punishment
by Parish Council on Saturday 12 January 2013

---
Derbyshire Ancestral Research Group
Margaret Brooksbank 's regular article about past activities and events in the parish. Thanks Margaret.
Her choice for this particular piece is
Crime & Punishment
All petty crime was brought before the Magistrate at Alfreton Petty Sessions. People were fined for almost anything, the most frequent offence being indecent language.
January 15th 1915 JOSEPH LONG of Leabrooks was fined 16s 6d for not sounding his bicycle bell when overtaking pedestrians.
February 6th 1920 HARRY ROBINSON and ROBERT WADDOUPS of Somercotes both fined 5s 6d for indecent language on the public highway.
February 20th 1920 ROBERT HILLIER, ALBERT BULLOCK & GEORGE BULLOCK, boys of Leabrooks, had to pay costs of 4s 6d each for playing football on the public highway.
June 24th 1921 WM VARDY, HAROLD HILL, THOS LADYMAN, WM BOOTH, HARRY ELLIS, JOHN STEEPLE, ARTHUR SELBY, ELLIS FANTOM, JAMES LADYMAN & HAROLD SIMPSON, pit youths of Somercotes, were charged with damaging growing grass and fences on the land of MR JOHN NIX of Alfreton, damage estimated at £2 10s. The defendants were caught gambling with cards in one of MR NIX's fields.
5 of the defendants appeared and pleaded guilty and were fined 16s 6d each. The others were fined 18s 6d each.
February 20th 1922 WILLIAM ATKIN of Somercotes fined 9s 0d for allowing a foal to stray.
June 24th 1920 MARY ANN BARTON of Somercotes pleased guilty to a charge of neglecting 4 children.
June 16th 1922 ARTHUR RILEY of Leabrooks Road, Steamroller driver of Alfreton Urban Council, was summoned for allowing too much steam to come from his engine. He was fined 14s.
November 24th 1922 HARRY LADYMAN, LEONARD SELBY & THOMAS DAVIDSON of Somercotes were charged with singing and shouting on the street on the night of Nov 3rd. Each were fined 15s 8d. Constable CARTER complained of the time.
September 5th 1924 HENRY CHARLES SMITH of Somercotes Hill, Fish & Chip proprietor, was charged with attempting to murder his wife SELINA.
October 24th 1924 WILLIAM GEORGE PUGH, 39 Sleetmoor Lane, for failing to keep a register of Lodgers, was fined 14s.
February 14th 1935 Found with a piece of coal valued at 2d in his pocket, the property of Babington Coal Co. Ltd. on January 31st, JOHN WILLIAM BURRELL, 46, A BANKSMAN OF Lower Somercotes, was ordered to pay 6s. costs.
February 20th 1935 HORACE OLDING, a labourer of Birchwood Lane, was fined 14s 0d for indecent language.