The Somercotes Parish Council Web Site is a guide to local services, events, news and useful contact numbers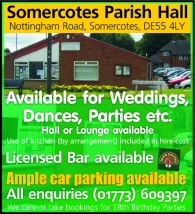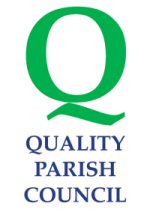 Somercotes Parish Council
has been awarded
Quality Parish Council status
Letter From Your County Councillor
by Paul Smith on Saturday 30 March 2013

---
Dear Resident
May I take this opportunity to wish you a Happy Easter.
Well, another four years have nearly passed and the County Council Elections are in May. It has been difficult at times but a pleasure to represent this community. I am pleased to have been selected to stand for election again; my ward will now include Alfreton and Swanwick as well as Somercotes, Riddings, Pyebridge, Leabrooks and Ironville. This will mean that everybody in these areas will have two votes due to the boundary changes and there will be two Councillors to represent you.
Firstly, I am pleased that the road repairs have finally been done to the crossing near to Chapman & Chubb, Solicitors on the B600, after many telephone calls I had to make.
The clearance work on land in between Blackstone Close and Windmill Rise has now been completed and so have the works to the land to the rear of Pennytown Court and Smedley Avenue.
The lighting schemes for Windmill Rise and Sherwood Street, Somercotes and James Street, Leabrooks have been approved and will be installed shortly, as well as the additional columns for the footpath link from Parkside through to Park Mews at Riddings.
I am also pleased to say that the dropped crossings have been installed at Birchwood Way which will help anyone accessing the route for work or to visit Pennytown Ponds.
I am still chasing the Post Office regarding a replacement post box at Leabrooks.
I have spoken to Derbyshire County Council concerning the housing development on the Welbeck site regarding street lights being out and repairs needed to the roads/pavements so that the Council can adopt the site. Until it is adopted, street lights, road/pavement repairs and street cleaning remain the responsibility of the Developer.
At a recent Derbyshire County Council Planning Committee, I managed to negotiate from the applicant (Pyebridge Waste) £1,000 contribution towards Pennytown Ponds, for improvements to a drainage system and also improvements and resurfacing of a footpath which runs from Cotes Park Lane through to South Normanton via the Red Bridge due to the footpath being badly eroded.
At the same meeting I also raised the issue around Pyebridge Industrial Estate and the fact that the applicant had not carried out the resurfacing of the highway. This was a condition in granting the planning permission for the waste recycling facility. Officers are now talking to the company about getting this work undertaken.
Yours sincerely
Councillor Paul Smith