The Somercotes Parish Council Web Site is a guide to local services, events, news and useful contact numbers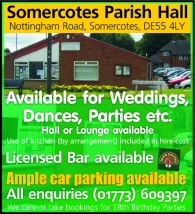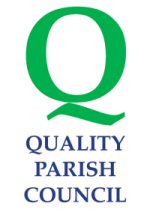 Somercotes Parish Council
has been awarded
Quality Parish Council status
Christmas In Somercotes In Times Past
by Amber Valley Info on Thursday 12 December 2013

---
Thanks to Margaret Brooksbank of DARG for an entertaining article on Christmas In Somercotes.

TOYS ADVERTISED FOR CHRISTMAS 1931
PECKING DUCK – As it runs it keeps pecking the ground as though it is eating. A very clever toy for 61/2d.
THE BOOMERANG PISTOL – Can be used three ways, to shoot and boomerang, with a cap and with a dart – 1/-
CLIMBING MONKEY – A monkey climbing a palm tree – Almost human in its movements – 2/11.
A MECHANICAL WEIGHTLIFTER is something new in toys. A CLOWN bends down and with its teeth lifts up a heavy weight and puts it back down again. A very clever toy – 1/11.
All boys who have clockwork or steam trains should complete their set by getting a STATION lit up by electric light. Two bulbs and a battery all complete for 1/11. A good toy.
LITTLE NEEDLEWOMAN – This contains lovely little linen mats transferred and ready to sew with pretty coloured silks – 1/-.

CHRISTMAS WEDDING
On Christmas Day at Ironville Miss LILLY LOUNDS daughter of Mr & Mrs J LOUNDS of 66 Pye Hill married Mr CHARLIE GIBSON son of Mr & Mr A A GIBSON of Coupland Place, Somecotes.

ADVERTS FOR CHRISTMAS SPIRITS
Scotch whisky JOHNNY WALKER, BLACK AND WHITE, TEACHERS, AND HAIGS GOLD LABEL 12/6
Liqueurs CHERRY BRANDY 11/6 CRÈME de MENTHE 15/- MARTINI VERMOUTH 3/3.

SOMERCOTES EMPIRE
The Somercotes Empire have engaged that well-known London variety act "THE TWO SCAMPS" for Boxing Night and the rest of the week.

OLD ENGLISH GAME
34 entries were on view at a show of Old English Game at the Royal Tiger on Boxing Day. Mr G DAKIN staged the BEST BIRD in show on an OLD ENGLISH GAME COCK and Mr W BOOTH runner up with a PARTRIDGE WYANDOTTE COCK.

1891. ANNUAL SOIREE
On New Year's Eve the Somercotes Conservative and Constitutional Association held its fifth annual soiree in the Boys' Schoolroom. There was a large and fashionable attendance which included Mr JAMES OAKES C.C. and other gentlemen. The room was tastefully decorated for the occasion with evergreens and Patriotic Banners and the two appropriate mottoes "Peace and Honour" and "Prosper our Country" were prominently allocated. Mr STEWARD acted as M.C. An efficient band rendered an excellent programme of dance music, and songs and recitations were heartily received. A successful and enjoyable evening was spent and the proceedings terminated about two o'clock on the morn of the New Year.

1915. SICK AND DIVIDING SOCIETIES
There are several societies in Somercotes and at Christmas paid their members in the DERBYSHIRE ARMS 7/6, leaving a balance of 2/6; the society has 142 members. The SUN INN paid 6/- each and the NEW INN paid 8/- after meeting all liabilities.