The Somercotes Parish Council Web Site is a guide to local services, events, news and useful contact numbers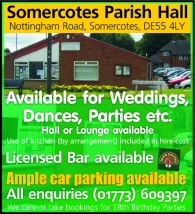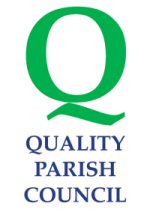 Somercotes Parish Council
has been awarded
Quality Parish Council status
Talented Somercotes
by Parish Council on Thursday 20 February 2014

---
Thank you to Margaret Brooksbank of DARG for taking the time to research these newspaper articles from 1932. Wouldn't it be good if someone had photographs in their possession that we could publish of some of the Methodist Church Gala fancy dress entrants, or any of the other events mentioned.
1932 Jan 8th
Local Dancing Successes.
Pupils of Miss MOLLIE EVANS were successful at examinations held in Nottingham on December 15th-16th under the auspices of the British Ballet Organisation. Grade 2 JOAN SMITH of Birchwood Lane passed with honours, MARY TWIGGE of Somercotes. Grade 1 KATHLEEN WARD of Pye Bridge passed with honours.
1932 Feb 26th
Ripley Co-operative Society Window Display competitions were held on Wednesday eening. About 250 employees and friends attended the tea and awards were presented by the President Councillor Mr T FEARN. Somercotes store won one of the awards.
1932 May 20th
A Somercotes young man, Mr JOHN RICHARD ORME, son of Mr & Mrs JAMES ORME of Somercotes Hill, has been successful recently in the BAKING WORLD. At a Newport Bakers exhibition a few weeks ago Mr ORME was successful in winning a Gold medal for 2lb commercial white loaf, 2 Silver medals for commercial brown loaf and a Bronze medal for exhibition white loaf.
1932 May 23rd
Miss ANNIE TAYLOR, 2nd daughter of Mr & Mrs W TAYLOR of Leabrooks, at the commissioning of Cadets from the Training College, received her Commission on May 12th at the Royal Albert Hall. She had passed all the necessary exams and has been stationed at Shirebrook with the rank of Lieutenant in the SALVATION ARMY.
1932 Sep 12th
Birchwood Methodist Church Gala Day fancy dress winners:-
1st MAVIS NAYLOR "Little Miss Muffet". 2nd NORA HAWKINS "Jockey". 3rd JOYCE HARDY "Powder Puff".
Consolation prizes: FREDA JEPSON "Sunflower". EDNA JEPSON "Blue Butterfly". MURIEL LEBETER "Spinning Top". After tea there was a find displays of Drills and Weightlifting by the Birchwood Health and Strength Club: SYD GIBSON, DOUG BARNETT, CYRIL SMITH, DON BONSALL and SAM DOOLEY.