The Somercotes Parish Council Web Site is a guide to local services, events, news and useful contact numbers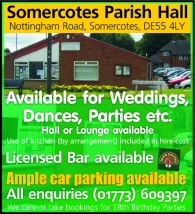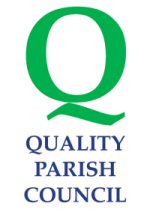 Somercotes Parish Council
has been awarded
Quality Parish Council status
DARG Derbyshire Ancestral Research Group
by Parish Council on Sunday 4 December 2016

---
Thanks to Margaret Brooksbank for this contribution
Contact for Margaret: Tel 01773 604916
Throughout all editions was a regular item headed: Notes, whilst not about the Somercotes area, they did affect everywhere , as most were Government edicts.
1936 January 17th
Television, it is stated will be available to London in June but will not be extended to the provinces for at least a year after that.
1936 August 28th
According to the latest Court ruling, married couples staying at hotels must register separately. It is not sufficient for a man & woman to be registered as Mr & Mrs.
1936 October 2nd
Dipping headlights became compulsory of new motor cars from next Sunday. Another regulation comes into force of January 1st next year by which no car irrespective of age will be allowed on the road unless fitted with a safety glass windscreen.
1937 January 15th
An increase of a halfpenny a gallon = the price of number one petrol took effect from yesterday. This is the first change of price since May 1935 when it rose 1d from 1s 5d to its present level of 1s 6d.
1937 August 20th
It will be in ineresting to those who are obliged to use Trolley Buses during Winter that the Midland General Company is taking delivery of 7 double deckers in which a heating system has been installed & the remainder of their vehicles will be adapted as soon as possible.
1938 May 11th
The law says a man must not drive a motor car and expect something or somebody to get out of the way. He must drive as if that something or somebody was not going to get out of his way.
1940 January 19th
All our Air Raid Sirens in Derbyshire will be sounded at 12.45 pm next Sunday to ensure they are in proper working order.
1940 January 26th
The date for the start of Summer Time this year is to be Sunday 25th of February.
1940 February 2nd
All building workers will receive an increase of one halfpenny per hour under the new grade rates which came into operation yesterday (Thursday).
1940 April 19th
In the Commons yesterday Major LLOYD GEORGE announced that it has been declared to extend the list of controlled prices to include processed loose Peas.
1940 November 22nd
There will be no Boxing Day holiday this Christmas. Work in the factories will be resumed after Xmas Day to maintain output of munitions & other essential war supplies'.