The Somercotes Parish Council Web Site is a guide to local services, events, news and useful contact numbers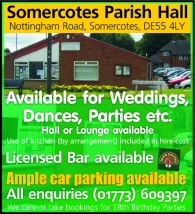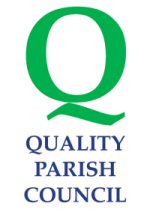 Somercotes Parish Council
has been awarded
Quality Parish Council status
DARG Derbyshire Ancestral Research Group
by Parish Council on Sunday 4 June 2017

---
Thanks to Margaret Brooksbank for this contribution
Contact for Margaret: Tel 01773 604916
Printers BAILEY & SONS produced the SOMERCOTES & ALFRETON ADVERTISER distributed free each week. It was a four page papers mostly local business adverts along with small happenings in the area. The early editions are in ther archives at Matlock but five later ones survive from which the following are taken.
March 14th 1947 – The Cellular Clothing Co Ltd Nottingham recently bought the property of the late Mr HENRY MILLER Bookbinder of Quarry Rd. They hope to begin production soon, employing about 40 local girls.
Friday 28th – Grand Dance to be held in Leabrooks Miners Welfare. Music provided by SYD BROUGHTON and his band. MC Mr E T TAYLOR admission 2/-.
Butchers will get no more meat for sausage making after Monday the Food Ministry anno9nced on Tuesday.
The cost of clearing up the snow in the area up to Wednesday was £2000.
April 25th 1947 – Mr W BUCKINGHAM & MR S RILEY are appealing for help in order to revive the Old peoples Tea & gathering. The meeting will be held in the Church Hall on Sleetmoor Lane on the 29th April at 7.30.
A lady assistant is wanted by AUDREY WHARTON Ladies Hairdresser, Nottingham Rd.
For Sale FRANCIS BARNET Lightweightr Motor Cycle 98cc excellent condition nearest £45 apply 66 Leamoor Avenue tel 282
July 4th 1947 – Football Stars aged 28 weight 9st 10lb height 5ft 6ins of Leamoor Avenue KENNETH WEIGHTMAN is a natural right winger, starting his career at the age of 16 he has played with Riddings Works, Somercotes Amateurs & Somercotes Athletic. He has served 6 years in the Royal Artillery. Aged 289 weight 13 stone height 5ft 7ins of Leabrooks Road SIDNEY MELLOWS stocky built right half back & one of the veterans of the side. He played for Swanwick Welfare before the War where he served for 6 years in the RASC.
August 22nd 1947 – Football Stars aged 18 5ft 7ins weight 10 stone ALAN STRINGER is the youngest of three brothers in the Somercotes Team. He joined the Leicestershire Regiment and could only play on leave. He was Captain of Riddings Ironworks in his younger days and did not play for long when he returned home. Aged 25 weight 13st 8lb height 5ft 11ins FRANK WHARTON played full back or utility player mainly for Somercotes. He served in the R.E. for 6 years & played Centre Forward in India & Singapore.
September 17th 1948 – EMPIRE CINEMA – Monday & Tuesday International Lady with George Brent & Ilona Massey Wednesday & Thursday Red Stallion with Robert Paige & Ted Donaldson Friday & Saturday When the Bough Breaks with Patricia Roc and Rosamund John Sunday Brazil with Edward Everett Horton all had second films and two houses.
Currys Ltd supplied a weekly programme for Radio Luxembourg – for example – Sunday 5.45 Anne Ziegler & Webster Booth.
The adverts were the same throughout all editions
J WATTS Pianoforte Tuner
J W MILLS Joiner & decorator 105 Somercotes Hill
J E WALKER 23 Birchwood Lane Plumber & Heating Engineer
EMMIE permanent Waving Specialist 108 Leabrooks
GIBSON'S RADIO 9 High St tel 98
J E WOODLAND Florist 61 Nottingham Rd tel 252
FH SHARPE Gents Outfitters 56 Nottingham Rd
Mrs B MILES 45 Quarry Rd Spencer Surgical Corsets, Belts & Bassiers
SELDON'S General Stores 105 Leabrooks
J LEONARD WALLER Photographer Nottingham Rd
The FIVE WAYS MANUFACTURING Co Ltds are now open on Seely Terrace for the manufacture of hosiery
The PREMIER SHOP tobaaconist & confectioner
J ABBOT & Co ltd Coupland Place & Nottingham Rd
BEACH'S for the best bread of all Leabrooks Rd tel 249
G E Brewster Gentlemen's hairdresser 112 Somercotes Hill
Almost all editions ran a serial story in instalments The Knights of the Silver Dagger was one and a complete story in one paper Homicide Handicap (no authors).