The Somercotes Parish Council Web Site is a guide to local services, events, news and useful contact numbers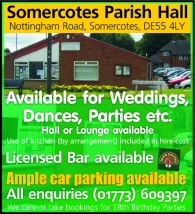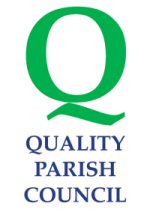 Somercotes Parish Council
has been awarded
Quality Parish Council status
Derbyshire Ancestral Research Group - Somercotes Allsorts
by Parish Council on Saturday 9 September 2017

---
1927 July 29th HARRY DAYKIN, the young Somercotes footballer who played outside left for Alfreton Town, takes up his engagement with Southend on August 6th. DAYKIN celebrates his 18th birthday on Monday and we wish him the best of luck with his new club.
1931 July 3rd On Sunday a bricklayer named CHARLES HAGUE of East View Albert Street Leabrooks had a lucky escape from death. He was motor cycling from Leabrooks when he came into collision with a PIPPIN BUS driven by JOSEPH GENT of Ripley. HAGUE was thrown to the ground and had a shoe wrenched off but escaped with only abrasions to his leg.
1931 August 21st Somercotes, Leabrooks & District SPIRITUALIST CHURCH held an open air Service on Somercotes Market Polace on Thursday evening. This was the first open air service held by any Spiritualist Church and Somercotes is very proud of this fact. The meeting was attended by some 150 mostly Somercotes people. The Invocation was sweetly given by Mr J ANNABLE of Belper. The service adjournment was made to the Hall on Leabrooks Road when a packed audience were given some beautiful experiences by Mr CARTER of Halifax and clairvoyance by Mr ANNABLE. Together a most wonderful rally.
1931 October 16th SIDNEY BRADLEY 25 miner of Nottingham Rd received injuries to the head and back on Wednesday when he was caught by a fall of roof. He was taken to DRI. BRADLEY was a former Alfreton Town goalkeeper and present Somercotes Wicket Keeper.
1931 December 4th Mr HERBERT WILKINSON and Mr J H STORER were in the same ward together at the Derbyshire Royal Infirmary. They died the same day and were interred side by side in Birchwood Burial ground.
1932 April 8th The following are the SHORTHAND examination results under Somercotes Higher Education Classes. - 80 words per minute – ARTHUR H TAYLOR, DORIS CORNS, HAROLD BETTISON. 70 words per minute – LESLIE GREGORY. Theory – ARTHUR SHELDON, HAROLD NEWTON. Elementary – BARBARA SMITH, AUBREY HALL, DERICK A RADFORD.
1933 February 2nd Mr WALTER WALLER of Leabrooks won the Silver Cup and Gold Medal in the open class for VOCAL SOLO (Gentlemen) at Derby Musical Festival on Thursday last week.
1933 March 2nd In conjuncjtion with the Management of the ALFRETON EMPIRE THEATRE and the presentation of the film "BRING 'EM BACK ALIVE" amohngst the4 children receiving a box of REEVES water paints was EUGENE RADFORD of 90 Birchwood Lane Somercotes.
1935 February 28th The POSTMASTER GENERAL has decided to grant a petition by residents for a SUB POST OFFICE at Lower Somercotes.
1935 April 25th An application was made by the POLICE for the SOMERCOTES INSTITUTE and CLUB on SEELY TERRACE (Secretary JAMES WHYLD) to be struck of the Register for 12 months on the grounds that (1) It is ot being CONDUCTED in good faith as a club. (2) The supply of INTOXICATING LIQUOR is not under the control of the committee appointed by the members. The Bench ordered the Club to be struck off, the Register and the premises disqualified for use as a club for twelve months and to pay the cost of 18s 7d.