The Somercotes Parish Council Web Site is a guide to local services, events, news and useful contact numbers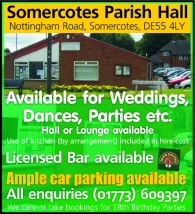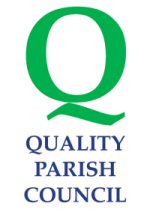 Somercotes Parish Council
has been awarded
Quality Parish Council status
Past Times
Derbyshire Ancestral Research Group
by Margaret Brooksbank on Monday 7 June 2010

---
DERBYSHIRE ANCESTRAL RESEARCH GROUP
For more information please contact Margaret Brooksbank on 01773 604916
PAST TIMES
The following accounts were taken from the Alfreton & Belper Journal:

MILKING A FARMER'S COWS AT ALFRETON
1891 August 28th
Ernest Bacon aged nine of Somercotes, John William Woolley aged seven, Ralph Peat aged seven of Leabrooks and James Bednall aged ten were summoned for stealing two quarts of milk valued 10d, the property of Luke Evans, at Alfreton on th 17th inst. ---A witness said he saw the defendants milk the cow. They caught the milk in a paint tin which would hold about half a pint. They were all bending down, and they afterwards drank the milk. This was about three o'clock in the afternoon. William Yates corroborated. The case was settled on the parents agreeing to pay 2s. each on behalf of the defendants.

COCKFIGHTING RAID AT ASTON ON TRENT
1929 May 24th
On May 1st Thomas Carlin Johnson scrap dealer of Chellaston was convicted for allowing his premises to be used for a cockfight.
Harry John Swain cabin lampman of Birchwood was convicted of causing his birds to fight.
Among the spectators were: Arthur Ansell licenced victualler of the Royal Tiger Somercotes, Walter Newton of Leabrooks and James Darrington of Somercotes Hill.
Thomas Carlin Johnson was fined £20 and Swain was fined £20 on the principal summons and £1 for assisting Johnson. All the others pleaded not guilty and were dismissed by the magistrate. All the birds were confiscated by the RSPCA.