The Somercotes Parish Council Web Site is a guide to local services, events, news and useful contact numbers
Contact Us:
Somercotes Parish Council
Somercotes Village Hall
Nottingham Road
Somercotes
Derbyshire, DE55 4LY
Send us an EMail
Administration: 01773 603810
Bookings: 01773 609397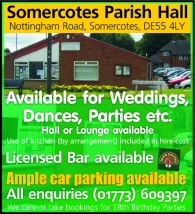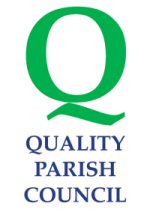 Somercotes Parish Council
has been awarded
Quality Parish Council status
Somercotes Parish Council
Somercotes Parish Council was formed in 1984 and covers the villages of Somercotes, Leabrooks & Pye Bridge.
The Parish Council has its own Parish Hall which is situated next to St Thomas' Parish Church on Nottingham Road in Somercotes. Find the Parish Hall on Google Maps
The Parish Council provide three allotments although these are not managed by the council, contact details for each allotment are shown on the allotments page.
The Council also provides a monthly skip, this is available in the Market Place, Somercotes between 8am and 10am on the first Saturday of every month.
The Council also provides street cleaning services, christmas lights and a number of grants to local organisations and events.
The Parish Council office is inside the Parish Hall, the opening hours vary so please phone to check when we are open.
Parish Council Documents
Somercotes Parish Council publishes a range of documents online. The most recent documents are listed below.
Ord PC Meeting Agenda - Mar 18

Ord PC Meeting Minutes - Mar 18

Ord PC Meeting Minutes - Jan 18

Ord PC Meeting Agenda - Jan 18

Ord PC Meeting Minutes - Nov 17

Your Parish Hall Today
At the parish hall today;
| | | |
| --- | --- | --- |
| 1.30pm - 4.00pm | ~ | Welfare Rights |
| 6.30pm - 8.30pm | ~ | Somercotes Guides |
Forthcoming Events

These events will be taking place shortly;

Borough Councillor Surgery
Sat 5 May at Somercotes Village Hall Lounge

Somercotes Waste Skip
Sat 5 May at Market Place Car Park

Annual Parish Council Meeting
Fri 18 May at Somercotes Village Hall Lounge


Somercotes Parish Councillors

Paul Smith (Chairman)
Bryan Lyttle (Vice Chairman)
Colin Addison-Lees
Martin Barron
Paul Curran-Bilbie
Gary Edgson
Craig Harrison
John McCabe
Sian McCabe
Jason Parker
Paul Price
Robert Scott
Scott Walker