The Somercotes Parish Council Web Site is a guide to local services, events, news and useful contact numbers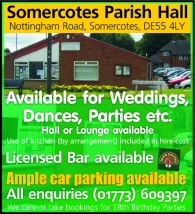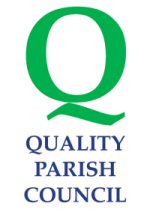 Somercotes Parish Council
has been awarded
Quality Parish Council status
Letter From Your County Councillor
by Paul Smith on Wednesday 1 January 2014

---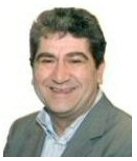 Dear Resident
We are pleased to announce the re-introduction of the evening and Sunday service Rainbow1 bus services through Pye Bridge into Alfreton, Eastwood and Nottingham. This service was removed four years ago and is being trialled from 1 December 2013 to July 2014 to gauge passenger numbers. It will be a two hourly service as the route will also cover Riddings and Ironville. Timetables can be obtained from the Parish Council Office at the Village Hall, and are also on the Parish Council's website, somercotesparishcouncil.co.uk.
We have also secured funding for the introduction of a Breakfast Club which will run from the Infants School but it will also serve the Junior School pupils as well. This money has come from Public Health and Children's Services and will be funded for at least the next two years with evaluations and monitoring taking place to see what a difference it makes to children's learning. More funding has been allocated for Somerlea Park Junior School for new windows and improvements to the Dining Hall. This is further investment for the school .
By the time you receive this letter the B600 will have been resurfaced from the Tiger Public House through to the car wash.
A lighting scheme is being designed for the service road on Philipway/Peterway.
For those people who used the Cricket Pavilion on Riddings Park we have secured £50k from Derbyshire County Council for the refurbishment of the building with £20k coming from Amber Valley Borough Council. This will mean real improvements for the cricketers and will also allow for the facility to be used by other groups.
The pedestrian refuge on Hockley Way is to be rebuilt; we won't be using the kit form this time as it will be constructed using more robust materials to hopefully reduce damage by heavy goods vehicles accessing the industrial estate.
Due to concerns raised by residents about the rubbish, trees and shrubbery being overgrown on Beauchief Gardens and the Recreation Ground and people loitering in the shrubbery, I have met with Cllr Brian Lyttle and Amber Valley Borough Council and am pleased to say that all the rubbish has gone and the area has been tidied up. The trees and shrubs have been cut back which has opened up the site and we are now working to put in a footpath link from Birchwood Lane to Beauchief Gardens which will make it easier to use.
Yours sincerely
Councillor Paul Smith
Deputy Cabinet Member for Health and Communities