The Somercotes Parish Council Web Site is a guide to local services, events, news and useful contact numbers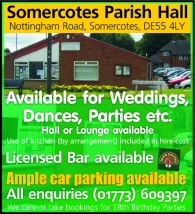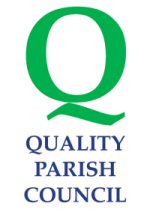 Somercotes Parish Council
has been awarded
Quality Parish Council status
Four Weddings And A Funeral
by Parish Council on Thursday 25 August 2016

---
DARG Derbyshire Ancestral Research Group, thanks to Margaret Brooksbank for this contribution. You can contact Margaret on 01773 604916
1930 April 11th
The death took place on Monday of Mr ENOCH GOULDER 70 after a long and trying illness. The deceased was a highly respected citizen and in the days before the advent of the Motor Car was the Proprieter of an extensive Cab and Charabanc business and travelled a great deal. He was an ardent Hospital worker and did excellent work during the War and was instrumental in securing 5 Red + Ambulances by the sale of SCARLET PIMPERNALS.
1930 June 6th
Mrs ELIZABETH BONSALL has died, she celebrated her 85th birthday on Sunday last. She lived in the same house, 72 Swanwick Road Leabrooks for 62 years and has been widowed for 29 years. There are 5 children living out of 9, 2 sons and 3 daughters. Mrs BONSALL is no traveller and has never been in a bus or for a Motor Car drive.
1931 February 20th
Mr SAMUEL BACON passed away Sunday last having just celebrated his 83rd birthday and he had lived his whole life in Seely Terrace. The deceased early training was of the Primitive Character for as a boy he attended The Old Dame's School for there was no school built at that early date, his connection with the Sunday School dated back to when it was held in The Old Tiger Club Room before Birchwood Chapel was built (1853). He commenced work at Shady Pit aged 10 years.
1936 October 9th
There passed away on Friday a well know resident in the person of Mr SAMUEL ALVEY after 10 months illness at 79 years of age. The deceased was a miner at Swanwick Colliery and always an early riser and made practice of always going down with the first Bantle (this is a local dialect word and if anyone knows the origin/meaning I would be interested to know)
1938 January 8th
The marriage of Mr DENIS SMITH the Derbyshire County Cricketer of Victoria St to Miss HILDA MYCROFT of Nottingham Rd at St Thomas Church united well known cricketing families. The Bridegroom is a left-handed batsman and his father Mr FRANK SMITH assisted in the same team. The Bride is the granddaughter of Mr WILLIAM MYCROFT who was acknowledged to be the finest fast left arm bowler in the County in the 70's. Her father Mr TOM MYCROFT is a well known local sportsman and Alderman ALLEN MYCROFT is a former Mayor of Derby.