The Somercotes Parish Council Web Site is a guide to local services, events, news and useful contact numbers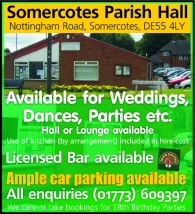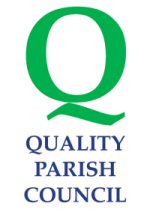 Somercotes Parish Council
has been awarded
Quality Parish Council status
DARG Derbyshire Ancestral Research Group
by Parish Council on Saturday 4 March 2017

---
DARG Derbyshire Ancestral Research Group
Thanks to Margaret Brooksbank for this contribution
Contact for Margaret: Tel 01773 604916

The following is taken from an old programme:
Salem Methodist Church Somercotes MAYTIME FAYRE in the schoolroom onSaturday May 1st 1948. Opening Ceremony at 2.30pm by Her Grace The Duchesse of Devonshire. Chairman Sir George Kenning JP Sheffield.
Supported on the platform by – Rev J L Crawford, Lady Kenning, Mr & Mrs RAC Palmer Morewood, Mrs M Watson JP, Mr & Mrs GA Beastall, Mr & Mrs CAM Oakes, Mr & Mrs A Shipman, Mr & Mrs Owen Taylor, Dr Colgan and other kind patrons.
The "Bazaar" is a further effort to raise funds to renovate our Church and to rebuild the organ. Admission by Programme only. All Day 1/-
Chairman's Remarks – Sir George Kenning JP
Her Grace the Duchesse of Devonshire presented the children with gift purses and then declared the Fayre open.
List of stalls – Embroidery & Crochet- Young ladies Fellowship, Crockery – Sunday school, Pound & Miscellany – Youth Club, Confectionery - Mrs Beet, Buffet by the Ladies Bright Hour.
While at the Fayre don't fail to pay a visit to Madame Zara who will reveal your future to you.
Concert 7.15pm The Stanley Lathwell Orchestrette and Guest Artistes
Adverts
NELSON & HAYCOCK Nottingham Rd Family Butchers for 50 years
G GODBER & SON Somecotes Hill High Class Bakers
J HOWARTH 98 Somercotes Hill Newsagent & Tobacconist
BOBS Premier Shop Cigarettes, Chocolates and Biscuits
E HILL 64 Somercotes Hill Gents Hairdresser
LAWRENCE WATERS Ladies Hairdresser
EDGAR WHITE 57 Nottingham Rd The Jeweller
J LEONARD WALLER 97a Nottingham Rd Photographer
Miss E SLANEY Nottingham Rd General Dealer
WH BAKEWELL Leyland Nurseries, Wreaths , Bouquets etc
WL SANSOM 71 Leabrooks Rd Gifts of Distinction
TARLTON'S Nottingham Rd Boot Store
LEONARD MILES & SON Complete House Furnishers
Mrs I FROST 61 Nottingham Rd Fruit, Vegetables & Canned Goods
C COOPER Premier Buildings Electrical Appliances, Radios & Cycles
ALBERT MORRIS & SON Nottingham Rd Newsagents & Cards
GIBSON'S RADIO 9 High St Ironmongery & Hardware
FS BERRISFORD LTD Nottingham Rd Chemist & Opticians
DAVID GIBSON LTD Sleetmoor Lane High Class Maker of Gowns
Plus many more