The Somercotes Parish Council Web Site is a guide to local services, events, news and useful contact numbers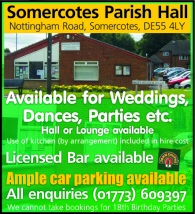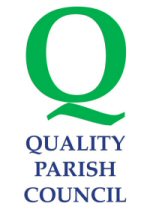 Somercotes Parish Council
has been awarded
Quality Parish Council status
Parish Council Documents
Somercotes Parish Council publishes a range of documents online. The most recent documents are listed below.
Register of Interests - Cllr P Smith

Ordinary PC Meeting Agenda - 19th Mar ...

Minutes of Ordinary PC Meeting 20 Nov ...

Ordinary PC Meeting Agenda 15th Jan 2 ...

DCC Information On Food Supply Nov 20 ...

Your Parish Hall Today
At the parish hall today;
There are no events in the Parish Hall today.
Forthcoming Events

These events will be taking place shortly;

Annual Parish Meeting followed by Annual Parish Council Meeting (APCM)
Fri 21 May at Somercotes Village Hall Lounge

Parish Council Meeting
Fri 16 Jul at Somercotes Village Hall Lounge

Parish Council Meeting
Fri 17 Sep at Somercotes Village Hall Lounge


Somercotes Parish Councillors

John McCabe (Chairman)
Paul Curran-Bilbie
Sian McCabe
M Barron
Paul Smith
Scott Walker
Vicki Bonsall
Paul Slater
Colin Addison-Lees
Paul Wardle
Jason Parker
Kellie Judson