The Somercotes Parish Council Web Site is a guide to local services, events, news and useful contact numbers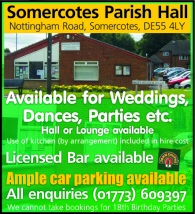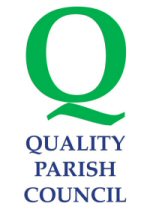 Somercotes Parish Council
has been awarded
Quality Parish Council status
Amber Valley Borough Councillors
Your Amber Valley Borough Councillors are
Councillor Brian Lyttle
Councillor John McCabe
The councillors hold surgeries in the lounge of Somercotes Parish Hall on the first Saturday of every month.

Please check the events page for dates and times.
County Councillor Paul Smith will also be present at the surgeries.

Your Parish Hall Today
At the parish hall today;
There are no events in the Parish Hall today.
Forthcoming Events

These events will be taking place shortly;

Parish Council Meeting
Fri 16 Jul at Somercotes Village Hall Lounge

Parish Council Meeting
Fri 17 Sep at Somercotes Village Hall Lounge

Parish Council Meeting
Fri 19 Nov at Somercotes Village Hall Lounge