The Somercotes Parish Council Web Site is a guide to local services, events, news and useful contact numbers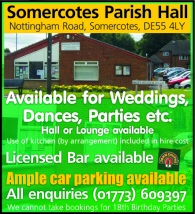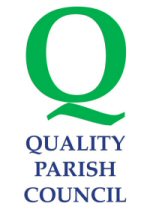 Somercotes Parish Council
has been awarded
Quality Parish Council status
Pennytown Ponds Nature Reserve
Pennytown Ponds is a local nature reserve which sits at the heart of the Cotes Park Industrial Estate, often referred to as a green oasis. The site consists of four Ponds, woodland, footpaths and bridleways which are enjoyed by many people from Spring when the bluebells and wood anemones are in flower and the many bird visitors are returning to their familiar territory to raise their young and to join the many birds which stay all year. You will often hear the call of the Green Woodpecker here and there and the Spotted Woodpeckers drumming on the trees.
Fishing rights exist on the ponds and Palmer Morewood Angling Club have contact details for membership on the notice boards around the site.
We hope you enjoy your visit and tell others about this very special place, with its varied plant, bird and animal life that the site supports. When you are there, sit a while, it can be worth it.
Pennytown Ponds can be found by car off the B600, turning right at the Cotes Park Public House, next right following the road through to the ponds or by foot you can also access off Birchwood Lane via the bridleway signposted or via the industrial estate, again signposted.

Your Parish Hall Today
At the parish hall today;
| | | |
| --- | --- | --- |
| 6.00pm - 7.15pm | ~ | Somercotes Brownies |
| 5.45pm - 6.30pm | ~ | Somercotes Rainbows |
| 10.00am - 10.40am | ~ | Moo Music |
| 4.00pm - 5.00pm | ~ | Lux Dance Studios |
| 9.45am - 10.45am | ~ | Walking Derbyshire |
| 5.00pm - 5.30pm | ~ | Lux Dance Studios |
Forthcoming Events

These events will be taking place shortly;

St Thomas Coffee Morning
Sat 3 Sep at Somercotes Village Hall

Somercotes Waste Skip
Sat 3 Sep at Market Place Car Park

Parish Council Meeting
Fri 16 Sep at Somercotes Village Hall Lounge