The Somercotes Parish Council Web Site is a guide to local services, events, news and useful contact numbers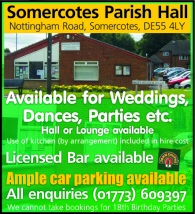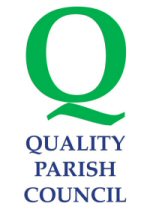 Somercotes Parish Council
has been awarded
Quality Parish Council status
Parish Council
Parish Council Staff
Clerk to the Council
Catherine Hedley
Tel: 01773 603810
Assistant Clerk / RFO
John Richardson
Tel: 01773 603810
Caretaker
Carol Hopkinson
Tel: 01773 609397
Relief Caretaker
Virginia Smithurst
Parish Wardens
Colin Rick
Les Briddon
Bar Supervisor
Victoria Jones

The Parish Council office is in the Somercotes Parish Hall and is normally open from Tuesday to Friday from 10.30am to 2.30pm.

Exact opening times are normally displayed on the office door or call on 01773 603810.
More information on the Parish Council and their activities can be found on the Parish Council page.

Booking forms for the hall or lounge can be obtained by calling in or by telephoning 01773 609397 or 07516 493430 or email caretaker@somercotesparichcouncil.co.uk
Your Parish Hall Today
At the parish hall today;
There are no events in the Parish Hall today.
Forthcoming Events

These events will be taking place shortly;

Annual Parish Meeting followed by Annual Parish Council Meeting (APCM)
Fri 21 May at Somercotes Village Hall Lounge

Parish Council Meeting
Fri 16 Jul at Somercotes Village Hall Lounge

Parish Council Meeting
Fri 17 Sep at Somercotes Village Hall Lounge