The Somercotes Parish Council Web Site is a guide to local services, events, news and useful contact numbers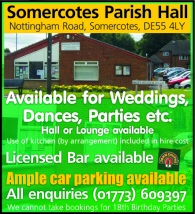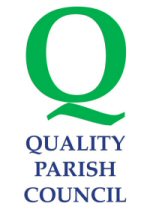 Somercotes Parish Council
has been awarded
Quality Parish Council status
Dog Fouling & Litter
The Parish Council takes the offences of dog fouling and litter very seriously and would ask that people pick up their dogs mess - The council provides FREE poop scoop bags and these are available at The Village Hall, Stop n Shop Convenience Store, Nottingham Road and Somerlea Park Centre (on the recreation ground). There is no reason why Somercotes should be free of dog mess (that can cause serious illness to children)

Litter is another problem that need not happen, but there is an element of many, particularly young people who seem to think chucking down litter is normal. Keeping a clean environment is essential for future generations to be able to enjoy green space. So please put litter in the nearest litter bin or take it home.

Amber Valley Wardens have been instructed to prosecute offenders, for dog fouling & litter in public places, so you have been warned.
Telephone Number for contact: 01773 841335
Email: envadmin@ambervalley.gov.uk
online at www.ambervalley.gov.uk/environment-and-planning/dog-control/dog-fouling
Your Parish Hall Today
At the parish hall today;
| | | |
| --- | --- | --- |
| 6.00pm - 7.15pm | ~ | Somercotes Brownies |
| 5.45pm - 6.30pm | ~ | Somercotes Rainbows |
| 10.00am - 10.40am | ~ | Moo Music |
| 4.00pm - 5.00pm | ~ | Lux Dance Studios |
| 9.45am - 10.45am | ~ | Walking Derbyshire |
| 5.00pm - 5.30pm | ~ | Lux Dance Studios |
Forthcoming Events

These events will be taking place shortly;

St Thomas Coffee Morning
Sat 3 Sep at Somercotes Village Hall

Somercotes Waste Skip
Sat 3 Sep at Market Place Car Park

Parish Council Meeting
Fri 16 Sep at Somercotes Village Hall Lounge