The Somercotes Parish Council Web Site is a guide to local services, events, news and useful contact numbers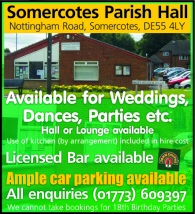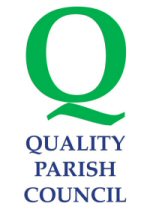 Somercotes Parish Council
has been awarded
Quality Parish Council status
Needle Disposal
Modern Living involves many hazards. One problem can be needles and syringes that have been discarded without care. If you find a needle, DO NOT PICK IT UP.

Please call Amber Valley Borough Council's needle hotline 08000 92 51 31 free anytime day or night. Their aim is to collect a needle within two hours of any reported incident.
Your Parish Hall Today
At the parish hall today;
There are no events in the Parish Hall today.
Forthcoming Events

These events will be taking place shortly;

Annual Parish Meeting followed by Annual Parish Council Meeting (APCM)
Fri 21 May at Somercotes Village Hall Lounge

Parish Council Meeting
Fri 16 Jul at Somercotes Village Hall Lounge

Parish Council Meeting
Fri 17 Sep at Somercotes Village Hall Lounge