The Somercotes Parish Council Web Site is a guide to local services, events, news and useful contact numbers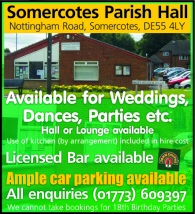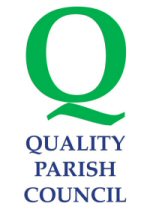 Somercotes Parish Council
has been awarded
Quality Parish Council status
Derbyshire Ancestral Research Group
by on Thursday 28 October 2021

---
The Derbyshire Ancestral Research Group is very pleased to say that we are now open for visitors. We meet in Birchwood Methodist Church school room each Wednesday from 9.30am until 1pm. All welcome.
1930 Notes: Alfreton Urban District Council at the meeting on Tuesday considered the age of their workmen and after a long discussion it was agreed to give 3 months notice to all employees over the age of 70 and to intimate to all workmen that at 70 years they will be compulsory retired.

1930 July 4th. The latest is the installation of TALKIES a the EMPIRE. The first performance being on Monday last. There were two crowded houses. It is evident that TALKIES are here to stay.

1930 July 11th. The RECREATION GROUND on Victoria Street has been very popular this week. 100s of children and parents have visited the ground in which the Urban Council have made a PADDLING POOL & SAND PIT. Better behaviour is necessary from the BIGGER BOYS

1931 Health Notes. For TORRID DREAM & NERVOUSNESS take BROM-BARK for a few weeks in moderate doses. You must get out of doors daily, games, walks or best of all DIGGING. Also HORSEBACK RIDING are the best for nerves.
COLD BATHS are good for those who enjoy them and bad for those who don't

1932 When a man is MARRIED his APPETITE grows or so his wife always finds but that's because she treats him so well. Give him plenty of PUDDINGS made with ATORA the good BEEF SUET.

1932 Oct 21st. A full time CARETAKER is required for SOMERCOTES CENTRAL SCHOOL. Wages £2.10s.0d a week less temporary reduction. The post will be pensionable and applicants will be required to pass a medical. Applicants must not be more than 45 years of age.

1934 April 26th. Following a fall in the street the previous Tuesday night the death took place on Sunday evening of MR ALFRED BAKEWELL, Baker & Confectioner of Leabrooks Road Somercotes.
1934 May 3rd. Afreton Urban Council MR LEE moved: "That the Councils playing field be opened for playing games on Sundays ". Mr Lee said times were altered since 50 years ago when he used to go to SUNDAY SCHOOL and would be sent to HELL when he had a slide on Sunday. This was supported by Church people and Catholics if played after Church.

1935 May 9th. Somercotes JUBILEE CELERATIONS were not of an ambitious character there being no special arrangements. Tea was provided for the children in various schoolrooms and sports events held for infants on the recreation ground. Souvenir beakers were presented to the children and new FLORINS to the OLD AGE PENSIONERS. There was no evening entertainment.