The Somercotes Parish Council Web Site is a guide to local services, events, news and useful contact numbers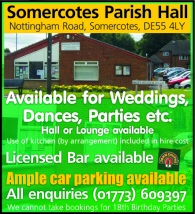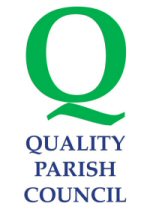 Somercotes Parish Council
has been awarded
Quality Parish Council status
John Tams Singer & Songwriter
Famous Former Resident of Somercotes
by Parish Council on Monday 26 September 2011

---
John Tams, Musician, Singer, Songwriter, Actor and Radio Producer, was born at Holbrook on February 16th 1949 and lived in Somercotes from 1949 until 1993.
His parents Bill and Vera and grandmother, Ethel Fryer were landlords of the New Inn on Birchwood Lane until John was about 5 years old, then the family moved to Woodside, Lower Somercotes. He went to school at Riddings and later to Somercotes Secondary Modern for Boys. By the time John was 11 he was playing the B flat horn in Riddings brass band. John's mother, Vera Stone, was a local girl, having been born on West Street in Riddings. Her father, Harry Stone, was killed at Denby Pit in 1928 and is the subject of John's award winning song Harry Stone – Hearts of Coal.
John may be best known to Somercotes residents from the ITV drama series Sharpe, when he played Rifleman Daniel Hagman. He also co-wrote the music for each of the 18 Sharpe films, alongside Dominic Muldowney. The album Over the Hills & Far Away: The Music of Sharpe, has sold over 150,000 copies. He has starred in TV and films, including Sons and Lovers, A Little Night Music, The Ruth Rendell Mysteries, When Saturday Comes and Heartbeat.
In the 1970s, John formed Derbyshire folk group Muckram Wakes, named from the former area of Somercotes known as Muckram. He recently reformed his eight-piece rock band, Home Service, and they are playing to 5* reviews at summer festivals over the UK and will be appearing at Derby Assembly Rooms in October. He also works with Heage musician Barry Coope and together as a duo, they were winners of the BBC Radio 2 Duo of the Year award in 2008. John has released three solo albums to date – Unity, Home and The Reckoning. He has an unprecedented 6 BBC Radio 2 Folk Awards, including Album of the Year for Unity and for The Reckoning and was also Folk Singer of the Year in 2006 He was a musical director and actor at the National Theatre from 1976 to 1985 and then again from 1999 to 2001, working on such shows as Lark Rise to Candleford, Glengarry Glenross and The Crucible.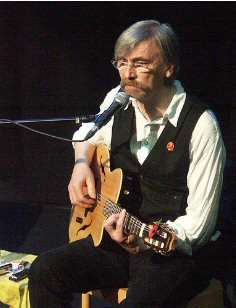 John also contributed a track called Yonder down the Winding Road (re-visited) to a cd released in 2000 to raise money for Parkwood Special School (now known as Alfreton Park Special School), along with many other artists, including Rick Wakeman, Gordon Giltrap, and other Derbyshire people like Kevin Coyne and John Wetton.
John is a member of the Creative Team for War Horse, which opened at the National Theatre in 2007 and continues playing to full houses in the West End. War Horse has been described as the most successful show ever staged by the National and has resulted in many awards. John spent time in New York earlier this year getting War Horse ready for its Broadway opening and where it subsequently won six Tony Theatre Awards. It is due to open in Toronto in February 2012 for a two year run and also has productions planned for Australia, New Zealand and a tour of the USA. Steven Spielberg's film of War Horse is due to be released over Christmas 2011 and John has worked closely with both Spielberg and composer John Williams on the music.
In November 2007, John was awarded an Honorary Doctorate from Sheffield Hallam University, then in January 2009 another Honorary Doctorate from Derby University.
John lives in Nether Heage with his wife, Sally and they have a grown-up daughter, Rosie, who lives in Manchester.
John receiving his honorary doctorate at the University of Derby