The Somercotes Parish Council Web Site is a guide to local services, events, news and useful contact numbers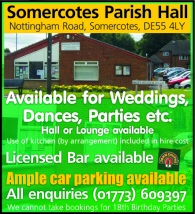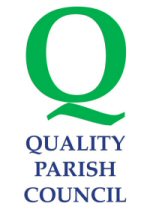 Somercotes Parish Council
has been awarded
Quality Parish Council status
Parish Council Meeting Update
by Parish Council on Tuesday 22 November 2011

---
Parish Council Meeting Update
A meeting of Somercotes Parish Council was held on Friday 18th November 2011 at Somercotes Parish Hall
The Queen's Golden Jubilee
A discussion was held regarding whether the Parish Council would fund a beacon for the Queen's Jubilee. The council was in favour of doing something as part of a combined community effort and intends to contact local churches, schools and scout groups to see if we can support a combined event. If you or a group you are involved in is already planning something for the Queens Jubilee then please get in touch with Glynis on 01773 603810 and let her have the details.
Allotments
The Parish Council has decided that there will be no increase in allotment annual rents for 2012. This means there will be no increase in what we charge each allotment association for use of the allotment as a whole. The Parish Council does not set the rent for individual allotments, this is handled by individual allotment associations.
A new association is now in place for the Flash allotments and efforts are going on to reclaim land that was previously not in use.
Contact details for Birchwood Lane, Bridle Lane and Flash allotments are all available on the Parish Council web site.
Christmas Lights
The Christmas lights are scheduled to be installed and operating by the 1st of December
Carol Service
The Christmas Carol Service is arranged for Friday 9th December 2011 at 7.30pm in St Thomas Parish Church. The Somercotes Guides, Brownies and Rainbows have agreed to sing for us again this year and Heage Brass Band will be playing. Refreshments will be served in the Parish Hall as usual after the service.
Newsletter
The Newsletter has been printed and fully distributed, if you have not received a copy then please call in the Parish Hall and pick one up, also please contact Glynis on 01773 603810 to ensure your address is on our delivery list.
Parish Council Calendar
Somercotes - Days Gone By
Our 2012 calendar is proving to be very popular, we have already sold over half our stock so if you do want a copy then pop in the Parish Hall and pick one up, the cost is only £3.00.